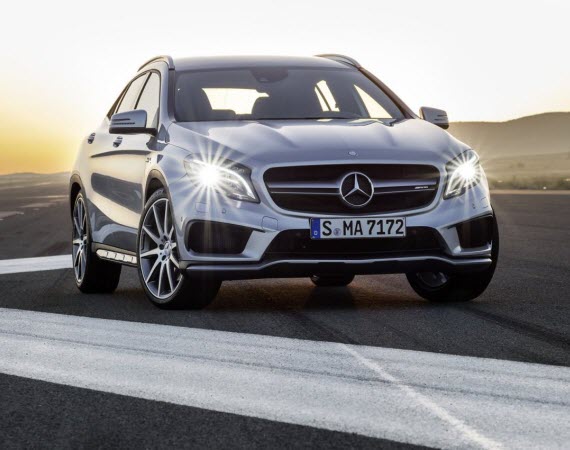 Finally Merc unveiled it secret of constructing whole new GLA 45 AMG.
This compact SUV will be the most powerful series production ever in the world with four-cylinder engine. Merc has confirmed that the SUV will be quite economical inspite of the fact that it will deliver the power of 265kW and 450Nm of torque.
Merc also claims the fuel consumption of 7.5 litres/100km in 2.0 liter engine and the CO2 emission of
175g/km. However when you are not much concerned about the fuel consumption than the car will accelerate from 0 to 100 km/h in just 4.8sec and also can reach the top speed of 250 km/h.
The car will be featured with standard fit performance oriented AMG 4MATIC and the AMG Speedshift DCT seven speed automatic sports transmission.
Tobias Moers, the Chairman of the Board of Management of Merc-AMG said in a statement that "We had received a great response for the GLA 45 AMG concept at the Los Angeles International Auto Show. This made our decision more stronger to build this all new AMG model."
Moers further said that "Our all new high performance SUV is not only the world's most powerful series- production four-cylinder engine but also it also consumes relatively less fuel. Not only the performance-oriented wheel drive, but the new GLA 45 AMG will prove a true AMG due to its driving dynamics."
It will be officially launched at the floors of the North American International Auto Show in Detroit on 13 January, 2014. The sales release will start from mid-March 2014 while the market launching will be from July 2014.